The Red Lion
We have one of the best pubs in Kent, possibly the world.
There is always a warm welcome welcome at the Red Lion. Good food, fires in the winter and regular live music.
Welcome to Badlesmere Lees
Badlesmere Lees is situated on the A251 four miles south of Faversham.
It is 16 acres of green and pleasant land which is communally maintained by the residents that live around its edge.
The cost of maintaining the Lees for the enjoyment of all means we have to raise funds. We have regular events that get the community together and bring in some cash. Please come and enjoy our Lees and help us keep it pretty by supporting our activities.

Badlesmere Lees and Hall Committee
The Committee now meets regularly to consider issues and improvements with regard to the Lees and the village hall.
A list of members and a full archive of the meeting minutes can be seen here.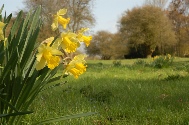 Walk on the Lees
The Lees is lovely to stroll on at any time of year. It is also criss-crossed by footpaths leading to and from the local attractions and churches
In May the surrounding woods have breathtaking displays of bluebells.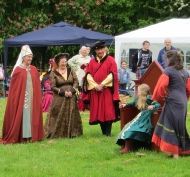 A proposal has been submitted for a 5000 property
housing development at North Street. This will have a significant effect on the surrounding area.
Download the proposal document here.
This is not a planning application. The document is a response to a request by SWALE Council for conceptual ideas for new Garden Villages.
A public meeting, held on 21st November, was attended by over 100 members of the community and they unanimously opposed the development. If you wish to add your name to the contact list for volunteers to assist in challenging the proposal please email dave@twomillionflowers.com