The Red Lion
We have one of the best pubs in Kent, possibly the world.
There is always a warm welcome welcome at the Red Lion. Good food, fires in the winter and regular live music.
Welcome to Badlesmere Lees
Badlesmere Lees is situated on the A251 four miles south of Faversham.
It is 16 acres of green and pleasant land which is communally maintained by the residents that live around its edge.
The cost of maintaining the Lees for the enjoyment of all means we have to raise funds. We have regular events that get the community together and bring in some cash. Please come and enjoy our Lees and help us keep it pretty by supporting our activities.

Badlesmere Lees and Hall Committee
The Committee now meets regularly to consider issues and improvements with regard to the Lees and the village hall.
A list of members and a full archive of the meeting minutes can be seen here.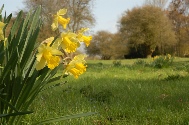 Walk on the Lees
The Lees is lovely to stroll on at any time of year. It is also criss-crossed by footpaths leading to and from the local attractions and churches
In May the surrounding woods have breathtaking displays of bluebells.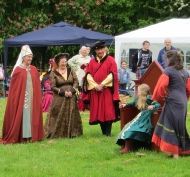 4th World of Chillies - Chillihead Church
Leaveland Church.
'Chilli Fiesta' Dyptich by Cherryl Fountain
Badlesmere and Leaveland churches are currently without a priest as there is a vacancy for the post of Sheperds Lees Benefice. If you wish to contact someone about baptisms, marriages and funerals and other church business please contact one of the churchwardens
Lyn Collins 01227 830258 or lynandarthurcollins@gmail.com
Hugh Reid 01795 890728 hughreid214@btinternet.com
If you wish to ask for pastoral support please contact one of the above who will put you in touch with an appropriate person.
During this time services will be held at all the usual times. Any exceptions will be published in the Magazine and at the churches. Read more about local churches
Christmas Trees from Nash's Farm, Luddenham.
Visit the farm , select and reserve a tree for collection nearer Christmas. The trees are growing and will not be cut or dug until collected so they will remain fresher for longer.
You are recommended to come early but please contact us in advance of your visit. Some of the funds collected are given to your local parish church, the remainder goes to other charities.
Phone 01795 532596
Email: nashsfarmhouse@btinternet.com
In 2016, Nash Farm Christmas tree donations raised £11,460 for 50 local parishes and 25 charities.
CHRISTMAS at BADLESMERE AND LEAVELAND CHURCHES
5.00pm 24th December
Christmas Eve Candlelit Carol Service at Badlesmere Church
9.30am 25th December
Christmas Day Communion Service at Leaveland Church
ALL WELCOME