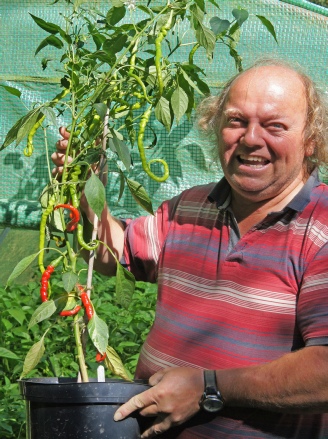 The Chillihead Church
2nd & 3rd September 2017
I started to grow chillies in 1992, when father's retirement as a gamekeeper, prompted moving house, and then with a good sized and sunny garden, our first change was to build a greenhouse.
had become interested in the piquant cuisines of Latin America, India, and south East Asia, as the media had suddenly embraced the world of hot and spicy, and I had a rapidly expanding library of exotic cookbooks. Unfortunately local greengrocers, were not quite in step with the food writers, and the only way to obtain the correct chilli varieties out side London, was to grow your own.Fortunately pioneering mail order companies such as "The Cool Chile Company", had started to market a range of chilli seeds, and I soon realized, just how varied and fascinating chilli plants could be,a popular online glossary now lists 4000 varieties!
In 1995 the countries first chilli festival was staged at West Dean Gardens, in West Sussex, now attracting over 25,000 visitors annually, underlining just how established chillies have become in the British psyche.This is also emphasized by two recently published books, Andy Lines, "Inside the Red Hot World of the Chilli Cult, How to be a Chilli head", and "101 Chillies to Try Before You Die" by David Floyd.
If this is not enough to, excuse the pun, fire public interest, this season Denbighshire fruit farmer Mike Smith grew the hottest pepper ever produced in the UK, he named the "Dragon's Breath" in honour of Wales.Tested by Nottingham Trent University at an incredible 2,480,000 SHU, its only rival is South Carolina chilli expert "Smokin'" Ed Currie's, ominous sounding, "HP 56 Death Strain", currently only available to cancer researchers.
I had been sneaking chilli plants into harvest festival displays for years, when In the autumn of 2011, a clash of commitments halted the usual flower festival at Leaveland Church and I offered to display my 46 types of chilli instead.Though I had no time for publicity, and had to move my 200 plus chillies in a laughably tiny Suzuki Jeep, which took three days, the small number of visitors were overwhelmingly positive .Comments included
"Are all these just chillies, they are so beautiful"
Most sadly I lost my Mother, and as a consequence my home the following year, and moved in to my Sister Cherryl's bungalow. It seemed dreams of my own chilli festival were over.
However by 2014, with space cleared for a six metre poly tunnel, and largely due to my sister's encouragement, we decided to give it another try, bigger and better than ever.The event proved a great success, selling over 300 pepper plants in aid of church funds, and has become our principal fund raiser of the year, and crucial to our little country churches ongoing witness.
The startlingly varied chillies I grew for the 2015 event, inspired my artist sister Cherryl Fountain, to paint a large watercolour Diptych titled "Chilli Fiesta", which was singled out in a review of the Society of Botanical Artists 2016 annual exhibition, as an excellent example of how botanical painting doesn't only mean flower painting.
For this year's festival, Cherryl has designed an exquisite china mug featuring peppers grown for the 2016 display, generously sponsored by the Countess Sondes. Only 20 are available, so if you fancy one, don't be too late for the 10 am start.
Look for Leaveland Church just off the A251, four miles from Faversham, ME13 0NP. Our event on the 2nd and 3rd of September will be our fourth consecutive festival, and to bring enthusiasts many exiting new chilli plants , I have switched to a Dutch chilli seed specialist, and every one of the hundreds of plants, are for sale. I will be bringing along an outrageous range of collectors hot sauces to taste, and our "Hot and Spicy tombola" features over 100 prizes, any chilli fan will relish.
I will enjoy answering any chilli related questions, and If you don't get a chance to chat, please take my detailed chilli growing guide.
Of course no church event takes place without teas, and the best bakers in the parish, will make sure there are plenty of delicious homemade cakes to enjoy, while testing your chilli knowledge with my revised "Who wants to be a Chilli-onaire ?" quiz.
Now facing competition from both Faversham's Abbey school, and Victoriana Nurseries at Challock, we are all working hard to ensure our unique church event, is our best ever.
Julian Fountain